Traffic Signs and No Parking Signs
Parking signs and traffic signs are an extremely important part of your facility parking plan.  Motorists and visitors must be made aware of rules, regulations and permitted parking areas in order to control vehicle traffic in your parking lots.
Parking Signs and Traffic Signs
Parking signs are ideal for schools, businesses, apartment buildings, parking garages, condos, colleges, universities and anywhere where vehicles or pedestrian traffic is permitted.
Use your own custom design, or let us create an attractive design for you.
Features of Custom Traffic Signs
12″ x 18″ Standard Size
Additional sizes are available. Please call for more info
Heavy-duty 0.080 Aluminum for excellent durability.
Custom wording and/or logos. Any design you need.
Full Color at no extra cost – Use any colors.
Pre-drilled holes on top and bottom.
Curved, rounded corners on signs for safety.
Non-reflective
UV Resistant
$36 each plus shipping.
Shipping is $10 plus $1 for each additional sign.
Typical Uses For Parking Signs

No Parking Signs
Reserved Parking Spaces
Visitor Parking Signs
Handicapped Parking Spaces
Hourly Parking Regulations
Speed Limit Signs
Rules & Regulations Notifications
Traffic Control
Parent Pickup Area Notification
School Bus Identification
Drug-Free School Zone Signs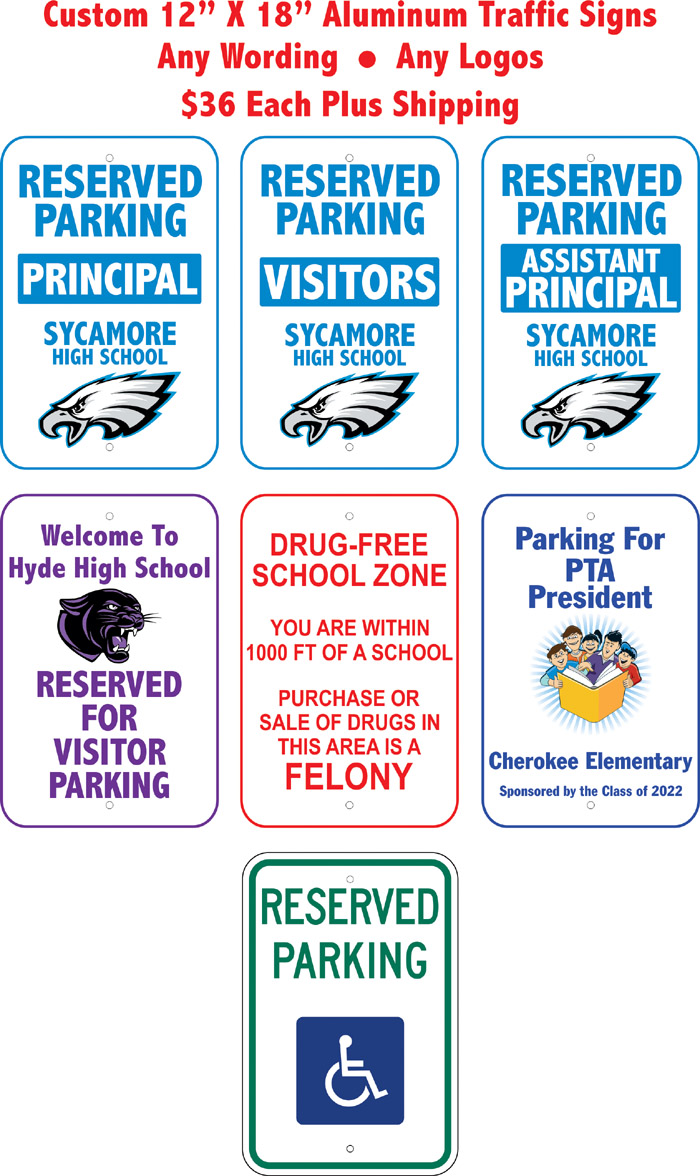 Home | Hang Tags | Parent Pickup Tags | Parking Violation Stickers | Static Cling Stickers | Vinyl Stickers
Parking Signs | Blank Plastic Hang Tags | Blank Paper Hang Tags | Free Design Sample | Order Form | Contact Us
K12 Parking Permits Contact Info:
K12ParkingPermits.com, PO Box 2547, Cumming, GA 30028
Phone: 1-866-906-2300   EMail: Info@K12ParkingPermits.com