PARKING VIOLATION STICKERS – ILLEGAL PARKING WARNING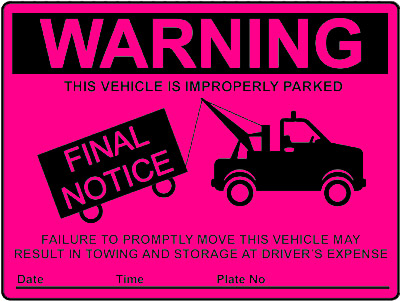 Parking Violation Sticker Notices are an affordable and convenient method for elementary schools, middle schools, high schools, universities and businesses to control illegal parking in your lots or loading zones.  Illegally parked vehicles can be a nuisance and a danger to pedestrians and other vehicles.
Illegal Parking Notices allow you to get the drivers attention and notify them that they have parked improperly. Our violation stickers are made to be placed on windshields or window glass only. They use ordinary adhesive that won't damage the window glass when removed.
Control Illegally Parked Vehicles In Your Parking Lot

Enhance the security of your parking areas by using these No Parking Window Stickers to warn drivers of their improperly parked vehicles. Security personnel can easily use violation notices to warn that their vehicles may be ticketed or towed away.
A Parking Warning Sticker from K12ParkingPermints.com offers superior quality at low prices for parking stickers to control illegally parked autos in your lots and other No Parking areas.
Parking Violation Warning Stickers Get Noticed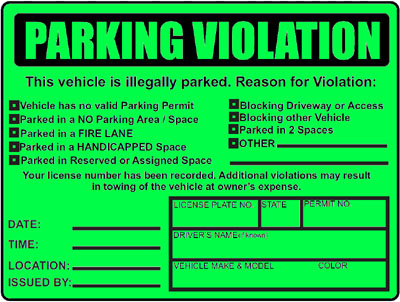 Illegal parking notices are available in 3 highly visible colors (Green, Orange or Pink) to insure that the driver does not ignore the warning sign that the violation notice is presenting.
K12ParkingPermits.com parking violation stickers can be customized for your application with your school or company name and other customized wording.
Vehicle owners will think twice before parking illegally the next time after they have to spend time scraping these parking violations stickers off of their windows.
Just call us to speak with one of our design specialists to discuss your application and get a free design sample.
FEATURES OF PARKING VIOLATION STICKERS

Parking Violation Stickers are a very inexpensive way to control illegal parking.
Available in 2 sizes – 4″ x 3″ for $59 per roll OR 6″ x 4″ for $99 per roll.
Each roll contains 500 parking violation notice stickers.
Place on the windshield or drivers window to notify owner of the violation.
5 different illegal parking violation notice formats to choose from.
3 highly visible label colors to choose from. (Fluorescent Green, Orange Or Pink).
1 color printing – Black only.
Your school or company logo or custom wording available at no extra charge.
These stickers are made to be used on window glass only.
Please Note: These are NOT carbon labels
STEP ONE – CHOOSE PARKING NOTICE FORMAT

We have 5 parking violation formats to choose from. These formats can be customized for with your school name, company name or logo.  Wording can also be customized at no extra charge.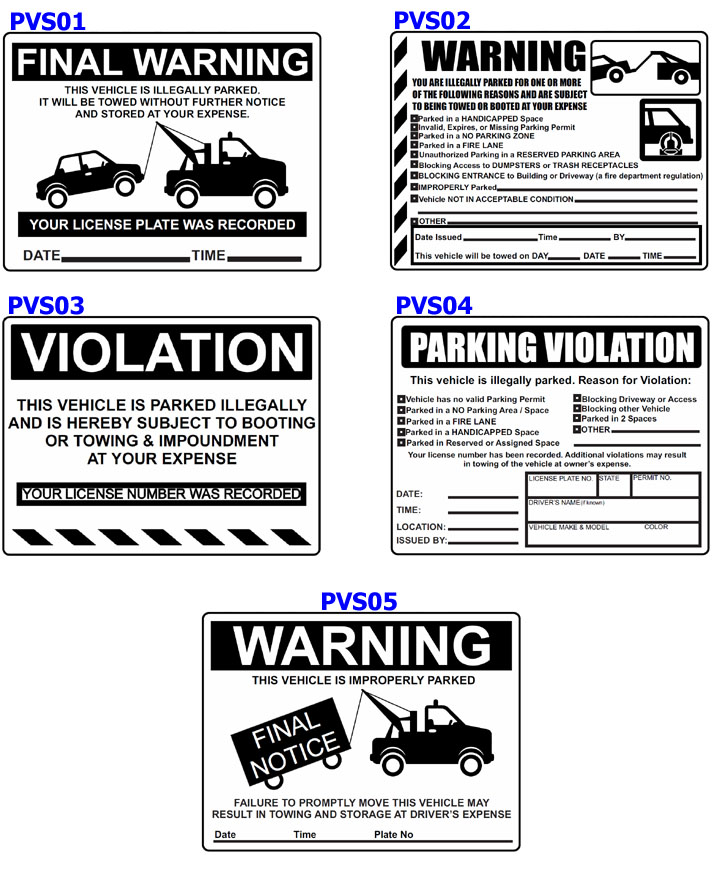 STEP TWO – CHOOSE YOUR LABEL SIZE

Parking violation notice stickers are available in two different sizes: 4″ x 3″ for $59 per roll or 6″ x 4″ for $99 per roll.  Each roll contains 500 parking violations stickers.

STEP THREE – CHOOSE YOUR LABEL COLOR
We have 3 highly visible parking violations label colors to choose from: Green, Orange or Pink

Home | Hang Tags | Parent Pickup Tags | Parking Violation Stickers | Static Cling Stickers | Vinyl Stickers
Parking Signs | Blank Plastic Hang Tags | Blank Paper Hang Tags | Free Design Sample | Order Form | Contact Us
K12 Parking Permits Contact Info:
K12ParkingPermits.com, PO Box 2547, Cumming, GA 30028
Phone: 1-866-906-2300   EMail: Info@K12ParkingPermits.com