PARENT PICKUP HANG TAGS – CAR RIDER PASS ID TAG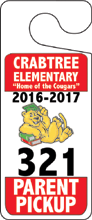 Parent Pickup ID Tags are an affordable and convenient method for elementary schools, middle schools and high schools to control the parent pickup and dropoff areas where students meet their parents every day. These car rider tags are larger than our usual parking permit hang tags and measure 3.25″ wide x 7.75″ high.
Parent Pickup Tags hang from the rear view mirror of the vehicle to easily identify authorized vehicles that can pick up children at school.  The parent id tags help keep school dismissal safe and organized and will help speed up the process of getting children loaded and unloaded.
These car rider passes are highly visible at a distance and are easy to read in any weather.
Car Rider Hang Tags Enhance Security – As Low As 95 Cents Each

Enhance the security of your student pickup zones by requiring parent pickup vehicles to display the appropriate pickup hang tag before allowing the automobiles into the dropoff area.  Security personnel can easily spot vehicles that are present without the proper pickup hang tag.
A Car Rider Pass from K12ParkingPermints.com offers superior quality at low prices for Car Mirror Hangers to identify carpool vehicles with your school's custom parent pickup hang tags.
Not Just Parent Pickup Tags – Dozens Of Other Applications Too!

Large Hang Tags like these can be useful for many applications aside from school pickups. They are perfect for handicapped parking permits, car pool hang tags, custom parking lot permits, temporary parking lots, business reserved parking spots, condo and apartment complex parking, resort and hotel parking lots, marina parking & boat docks, towing company parking lots, car rental companies and automobile car dealers.
They also have many applications unrelated to cars such as custom door hangers, maid service hang tags, customized doorknob hangers, do-not-disturb signs and much, much more. Just use your imagination!
All of these parking permit hang tags can be completely customized for your application and can be consecutively numbered at no extra charge.  Just call us to speak with one of our design specialists to discuss your application and get a free design sample.
FEATURES OF PARENT PICKUP HANG TAGS
Car Rider Passes are a very inexpensive way to control student pickup.
Order as few as 25 Parent Pickup Tags starting at $3.75 each
Larger quantities priced as low as 95 cents each.
Place inside windshield so they cannot be removed by others.
Can be printed in different shapes and sizes.
Full color prints and consecutive numbering available at no extra charge.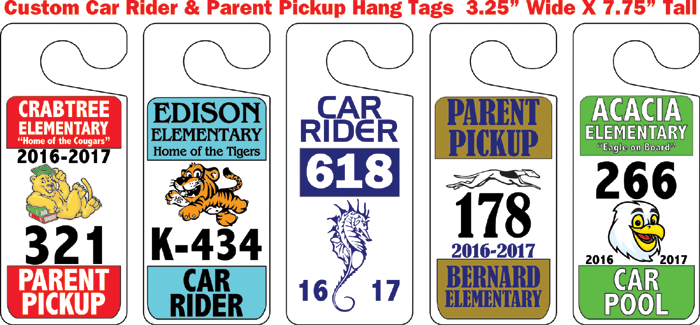 Home | Hang Tags | Parent Pickup Tags | Parking Violation Stickers | Static Cling Stickers | Vinyl Stickers
Parking Signs | Blank Plastic Hang Tags | Blank Paper Hang Tags | Free Design Sample | Order Form | Contact Us
K12 Parking Permits Contact Info:
K12ParkingPermits.com, PO Box 2547, Cumming, GA 30028
Phone: 1-866-906-2300   EMail: Info@K12ParkingPermits.com