WELCOME TO K12 PARKING PERMITS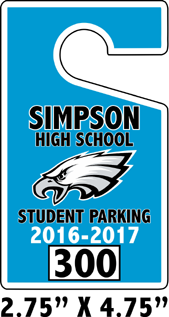 When schools need rear view mirror custom hangs tags to control where students and faculty park cars and autos, they turn to us for all their needs. We are the supplier of choice for all types of parking permits, parking hang tags, car hang tags, vinyl parking permit stickers and static cling parking permit stickers.
Some schools choose an easy to read 23 mil plastic hang tag for their rear view mirrors which are available in several sizes. Other schools want a static cling sticker that can be put inside the front windshield to identify vehicles authorized to park in certain locations.
Another inexpensive option is vinyl parking permits that can be placed on the rear view mirror or outside on the windshield or on the rear bumper or back window.
We also have temporary paper hang tags for short-term parking permits.
Colleges Use Our Parking Stickers To Control Parking Lots

In addition to our popular auto hang tags, custom printed hang tags, colleges and universities use our vinyl parking stickers and static cling parking permit stickers to identify faculty cars, resident student autos, and commuter vehicles which are permitted to park in designated parking lots and other areas.
Call us today at 1-866-906-2300 to discuss all your parking permit needs.
New Camouflage Hang Tag Patterns Are Hot
Our new camouflage hang tag patterns are absolutely awesome. These hot new hang tags come in a variety of camo patterns and colors.
We can even design these fantastic hang tag parking permits with your own patterns or colors.
The design possibilities are endless when you combine our standard camo designs with custom designed artwork for your rear-view mirror hang tags.  Full color hang tags are our specialty and we are sure you will be satisfied with the high quality and superior workmanship.
Elementary Schools Control Student Drop-Off And Pickup To Enhance Security
Schools may also elect to enhance school security by using parent pickup hang tags and car rider passes to quickly identify vehicles that are authorized to pick up students after school.
Elementary and Middle Schools are always greatly concerned about student pickup zones to insure the safety and security of their students.  Parent pickup hang tags are a great way to control the cars entering those security zones, increasing the security of the school children at the pickup and drop-off points.
Highly visible parking hang tags point out the vehicles that require additional screening before they can enter a secured parking lot or pickup zone.
Parking Signs and Traffic Signs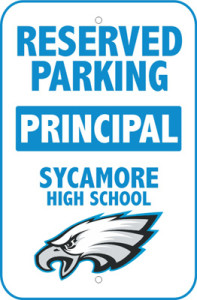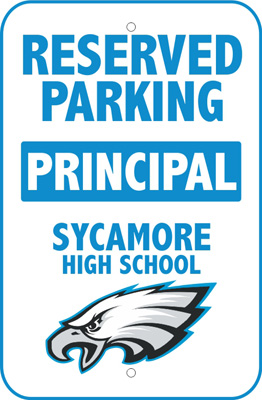 Traffic Signs are used in school parking lots, business parking areas and anywhere vehicles and pedestrians are located.
Clear and concise parking signs will help control your parking lots by notifying drivers where they can and cannot park.
These traffic signs are full color and can be completely customized with your wording and logos to control parking, traffic flow, pedestrian traffic and identify areas with no parking signs. You can use your design or we can create an attractive looking sign for your school or business parking lots.
Blank Plastic Hang Tags and Blank Paper Hang Tags
Blank hang tags are an inexpensive solution for temporary parking passes for towing companies, short-term parking lots, automobile dealerships, used car lots and anywhere else where a cheap hang tag is required.
Blank Hang Tags are the ultimate customizable hang tag, allowing you to write anything you want on these blank white hang tags for the ultimate in customized hang tags. Blank hang tags are available in 3 different sizes.
We Cater To Both Small And Large Customers
Order As Few As 25 At A Time With No Setup Charges

Priced As Low As 40 Cents Each In Higher Quantities!
Home | Hang Tags | Parent Pickup Tags | Parking Violation Stickers | Static Cling Stickers | Vinyl Stickers
Parking Signs | Blank Plastic Hang Tags | Blank Paper Hang Tags | Free Design Sample | Order Form | Contact Us
K12 Parking Permits Contact Info:
K12ParkingPermits.com, PO Box 2547, Cumming, GA 30028
Phone: 1-866-906-2300   EMail: Info@K12ParkingPermits.com